Mic monitoring is a feature that increases audio performance and often results in better clarity.This feature is extensively used by gamers who often engage in multiplayer games and need to listen to their teammates as well as the game audio. It can get quite chaotic when a lot is happening in the game and you are talking to other players as well!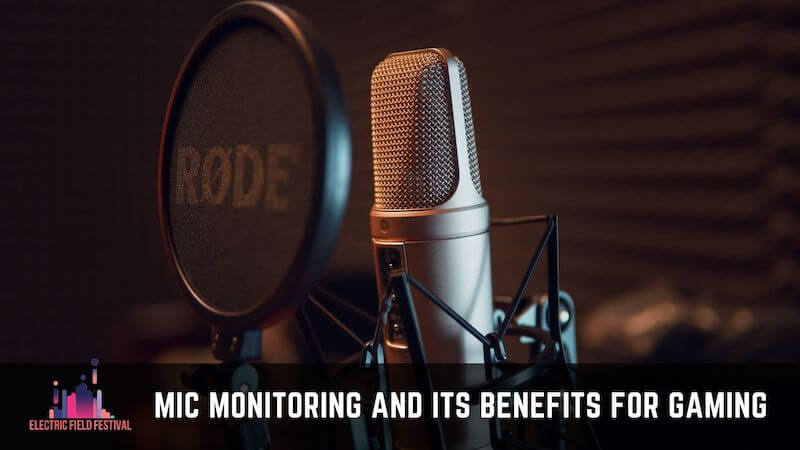 Most headphones, earbuds, headsets, etc come with mic monitoring, and with this feature, you can hear your own voice in the audio output. So as soon as you speak, you will be able to hear yourself.
So, what is Mic Monitoring?
In simple terms, this is what mic monitoring results in
You hear your own voice in the headphones
It is easy to monitor how loud you speak or how clear your audio is
You get a chance to monitor any mistakes you make and then correct them later on
How To Turn on Mic monitoring on different devices
Now that you have a fair understanding of mic monitoring, here are detailed guidelines for you to enable mic monitoring on your devices. Also, if you are looking to change mic sensitivity, here is how to change mic sensitivity in windows 10!
Switch on mic monitoring in Windows 10
For those who use a Windows PC, setting up mic monitoring is a fairly simple process. There are a few steps that you will need to learn about. Here are all the steps you need to follow to enable mic monitoring on your Windows 10 computer:
Navigate to the Windows Taskbar located on the bottom right of your screen
Look for the Sound icon and right-click on it
Select the Sound option to open the Sound settings
In this new window, click on Recording
You will see a list of devices. Select your headphone and click on Properties
In the next window, click on Listen and then check the Listen to this device checkbox
Now click on Apply and then OK
Switch on mic monitoring in Apple Macbooks
Enabling mic monitoring on a Mac isn't as easy as the process in Windows 10. There are no options to do it directly from the operating system. However, you could install some popular audio apps and enable them from there. One of the most commonly used apps on Macbooks is the QuickTime app and you can enable mic monitoring through this.
Open the Launchpad and click on QuickTime Player
Once it opens, click File and then New Audio Recording in the Menu on the top left-hand corner of the screen
Turn the volume slider on the screen all the way up
This should enable mic monitoring
Switching on mic monitoring in an Xbox device
It is pretty simple to do it on the Xbox as the in-built feature is called Mic Monitoring! To enable this feature, you will need a compatible headset. Here is what you need to do to enable mic monitoring on your Xbox device:
Navigate to your Home screen and then click on the Xbox button on the controller
Now you need to scroll to the Profile and System option and then find the tab for Audio
There will be a slider for Mic Monitoring. Move it up or down to adjust the volume as you need it
Exit from the settings and your mic monitoring feature is enabled
Also, check out our guide on can you plug headphones into xbox one!
Switch on mic monitoring on the PlayStation console
To use mic monitoring on a PlayStation, you will need compatible headphones. If you have the Sony headphones, then they will come with this feature. Unlike the Xbox, the mic monitoring feature in a PlayStation is called the Sidetone. You need to look for this option to enable mic monitoring.
Usually, mic monitoring is enabled by default on the PlayStation and all you need to do is to adjust the volume. Here is how you can do it
Click on Settings and then select the Devices option
Navigate to the Audio Devices option
There will an option called Sidetone there with a slider. You can adjust the volume by moving the slider according to your desired audio levels
Once done, click on Ok, and your work is done!
How To Switch Off Mic Monitoring
If you are looking to disable Mic Monitoring on any platform, then you can use the guidelines below.
Windows 10
Whenever you want to disable mic monitoring on your Windows 10 computer, all you have to do is to follow the exact steps listed above till Step 5. Then you will need to uncheck the Listen to this device option and the mic monitoring feature will get turned off. That simple!
Apple macOS
This is probably the simplest way to turn off this feature. Open QuickTime and then click on New Recording and bring the volume slider down!
Microsoft Xbox consoles
To disable mic monitoring, follow the steps listed above. Once you get to the slider, lower it or you could just remove the headphones and the feature will get disabled.
Sony PlayStation
Thankfully the PlayStation has a feature that will shut down the mic monitoring as soon as you disconnect your headphones from the console. However, if you still have to do it manually, follow these steps
Click on Settings and then select the Devices option
Navigate to the Audio Devices option
Switch off the Sidetone feature
How does mic monitoring help in gaming?
In the above sections, you learned how you can use mic monitoring and where you could use the feature as well. If you are still wondering what the advantages of using mic monitoring are then here are 3 great reasons to use it.
Real-time corrections
Once your multi-player game is over, can you make any corrections to your audio? You can't. You wouldn't even know how good or bad your audio was unless you recorded your session. With mic monitoring switched on, if you get to listen to your own voice, you can make real-time corrections.
Avoid Shouting
This is in line with the above point. Haven't you heard yourself shouting or raising your voice during calls? Or when someone tells you that they couldn't hear you properly on the call? If you can monitor your audio, then there won't be any need for you to shout or raise your volume on the call.
Cleaner Audio
If you are using your headphones to record audio, then mic monitoring can also help you monitor background noises to a great extent! Imagine that you record a great piece of audio and when you play it back you identify background noise in it. When you have real-time monitoring, you can remove the background noises immediately. When you are playing a multi-player FPS game with your friends, you can also tell other players about their voice quality and they can make corrections on a real-time basis.
Frequently Asked Questions
Have some more questions about mic monitoring? Here are some common ones that have been answered for you!
1. Do all headphones support mic monitoring?
Not really. If you are using an old headphone, then the chances are that it probably doesn't support the feature. But if you have a brand new pair then it probably comes with mic monitoring as a default feature.
2. What to do if my headset doesn't support mic monitoring?
Well, in most such cases, you will need to get a new headphone/headset that supports mic monitoring. The only other option to use mic monitoring in incompatible headphones is to use an amp.
3. I have an Xbox. What can mic monitoring do on it?
With the mic monitoring feature on the Xbox, you can hear your voice through the headset when you speak into the microphone. It gives you real-time feedback on your audio and lets you make real-time changes too.
4. How do I stop the echo that comes with mic monitoring enabled?
The best way to reduce or eliminate the echo is by lowering the volume in your audio settings. This should help you solve the issue of echo in your audio.
Conclusion
This article was written to help you understand everything about mic monitoring and hopefully, you now know what the feature is all about. New gamers who want the best possible gaming experience will appreciate the mic monitoring feature a lot!
So, if you are looking to configure mic monitoring on your device, follow our guide above and you should be done in no time at all! Before you go, check out our guide on Altec lansing bluetooth speaker pairing!
Recent Content