Most of us use headphones for our work calls, listening to music, or watching a movie late at night. But what if there is a requirement when you are using your headphone for the call and need your colleague to also listen to the call?
For such situations, technology has gotten advanced and it is now possible to use two headphones on pc or mac at the same time.
Key takeaway
A headphone splitter can be purchased and used to connect two headphones to a PC or Mac easily. You can attach numerous audio outputs to a single headphone connector using this gadget. The various audio jacks on your PC can also be used. Changing the audio system settings on your computer can also be done by navigating to the Control Panel and choosing Hardware and Sound. Once there, you may choose the "Manage Audio Devices" option and then the "Playback" tab. From there, you may choose either set of headphones to use for listening to music and change the volume as necessary.
So, How To Use Two Headphones On A PC?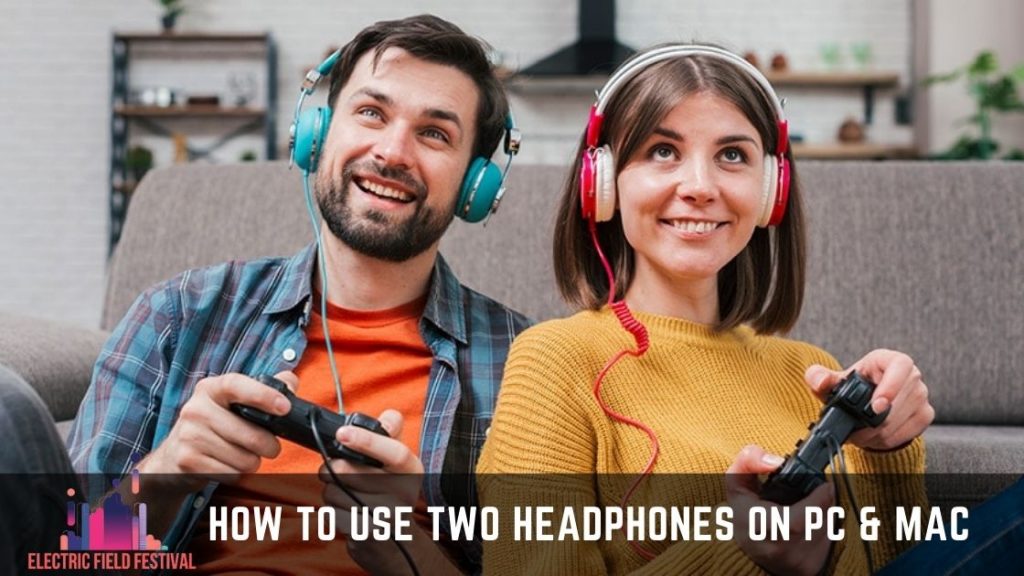 How To Set Up Two Pairs of Headphones on Your Windows Computer?
You can assign different audio devices to different programs in Windows. If you do not intend to share your audio via headphones with another person, the setup process is simple.
By right-clicking the speaker icon in your taskbar, you can access Open Sound settings. Once inside, go to Other sound options and select App volume and device preferences. You will then have access to the Settings box.
It allows you to customize your audio output settings for various programs. Because Windows will save all changes, you will not have to re-adjust them every time you run the desired program.
However, if you want to know how to use two headphones on a PC to share your audio with someone else, the step-by-step guide below will undoubtedly be useful. It applies to both USB headphones and 3.5mm jack headphones.
1.
Use the multiple audio jacks on your computer
So, the best way to connect multiple headphones to your computer is to use the multi-jack system on your laptop. If it has one.
This is not very common and very few Apple/Windows will provide you with multiple audio jacks. But in case your laptop has one then all you have to do is to plug both your headphones into the audio jacks in the system!
2.
Using Audio splitters to use two headphones on a Windows or Mac
A splitter is a wire that enables you to connect multiple headphones to your computer. If you are looking for a wired solution then this is the best way to use two headphones on one computer.
These splitters have a 3.5mm audio jack on one end that connects to your Windows or Apple laptop and has multiple jacks to insert your headphones cables.
While using audio splitters, there are a couple of points you need to keep in mind.
The splitter jack has to be compatible with your computer. Otherwise, it won't work
Make sure that the splitter has two separate jacks, for two headphones and one connector
Buy a good quality splitter, otherwise, you might face issues with audio quality or input delay
Here is how you can connect a splitter to your headphones and computer.
Plug the splitter jack into the audio port of your computer
Connect your headphone jacks into the two (or more) headphone slots on the splitter
After following all these steps, you can test the sound coming from both headphones by playing any sound. If you face issues with audio qualities of input lag, then there could be a problem with the splitter. When you invest in a splitter, you can choose between the Y-splitter and the multi-splitter.
A Y-splitter can only have two slots of headphones so if you are looking at just two then this would be the best choice. However, if you are looking to connect more than two headphones to your computer, then you need to buy a multi-splitter that has more than two headphone jacks!
READ ALSO: How Did Headphones Change Over Time? (Find Out Its History!)
3. Using the Stereo Mix feature on Windows
Before you get into implementing this solution, there are two requisites to it. Firstly, this is applicable to Windows computers only. And secondly, this only works if your computer monitor has an audio port as well. If both conditions are met, you can connect two wired headphones to your Windows computer.
Here is how it works.
Connect the first headphone into the audio jack of your computer and the second one to the audio jack in the monitor
Go to the Start menu and navigate to the Control Panel
Look for the Sound option and then inside it, click on the Recording tab
You will see an option for Stereo Mix. Right-click on it
Set this as the Default Device
Now head over to the Listen option and select Listen to this device
Here you will need to select the headphones connected to your computer
There might be instances where you might not be able to see the Stereo Mix option. But there is another way to work around it.
Navigate to the Recording tab
Right-click anywhere inside the tab
Now you will need to enable the Show Disabled Devices and the Show disconnect devices option
If you do not see these options, then your computer doesn't support multiple headphone use.
4. Using a Bluetooth adaptor (for wireless connections)
Even though almost all computers are equipped with Bluetooth technology, it might not be good enough to connect two Bluetooth headphones to one laptop.
Therefore, you will need to invest in a Bluetooth adaptor or emitter. Go for a good-quality one if you want to avoid audio issues like input delay.
Here is how you can use them
Connect the adaptor to your computer and switch it on
Make sure your computer's Bluetooth is switched off
Switch on your Bluetooth headphones and put them in pairing mode
Now switch on the adaptor and once it is in pairing mode, it will connect to your headphones
5. Settings for using two headphones on an Apple laptop
To connect two headphones on the Macbook, you can either utilize the multiple ports (in some models), use a headphone splitter, or a Bluetooth adaptor to connect your headphones.
But when you do these, you will still need to make some changes to the system settings. Here is what you will need to do.
Click on the Finder or the Launchpad
Navigate to the Utility folder or Other folder and click on Audio Midi setup
At the bottom left section of the window, you will see a + icon. Click on it
In the menu, click on Create Multi-Output device
Once done, right-click on that and select Use This Device For Sound Output
Select your headphones in the Audio Device list and then choose the Master Device
Then, select the Slave device by selecting the Drift Connection checkbox
You can close the window. Now open System Preferences and navigate to the Sound option
Go to the Output tab and choose your multi-output device
This completes the process of using multiple headphones on the Apple laptop and you can now test it by playing any audio file.
CONCLUSION On Use Two Headphones on PC And Mac
The people who benefit the most by connecting two headphones to their Personal Computers are games and audio editors. While listening to the same stuff is now possible with two headphones getting.
Connected at the same time it is easy for two people to watch a movie together, make a call together, learn something new together, etc. There are many advantages and disadvantages of connecting multiple headphones to your computers.
If your computers don't have an inbuilt provision, then you will need to use 3rd party software or hardware. This increases your expense. And if you end up using cheap quality products then the audio output takes a beating as well. So, if you are investing, do your research.
We really hope today's article was interesting as well as fun for you all. We hope that next time you wish to connect both your headphones to the computer at the time this article will help and guide you.
FAQs About Using Two Headphones On A PC
How can I use 2 headphones on one computer?
A headphone splitter is the simplest way to use two headphones on your PC or Mac. This allows you to connect two or more headphones to your computer via the mini-stereo or USB port and share the sound equally between them. When purchasing a headphone splitter, ensure that the device supports dual-headphone use.
How can I use two headphones at once Mac?
Check that the headphones you want to use with your Mac are Bluetooth-enabled and/or connected via the headphone jack. Launch the Audio MIDI Setup app from the Applications/Utility folder. Select Create Multi-Output Device from the menu that appears when you click the plus (+) button in the lower-left corner of the Audio Devices window.
How do you split audio between a Mac?
Click the Add button at the bottom of the sidebar in the Audio Devices window in the Audio MIDI Setup app on your Mac, then select Create Multi-Output Device. In the sidebar, a new multi-output device appears. To rename the device, click it and type in a new name.
Recent Content