Wonder if can you connect Bluetooth headphones to Roku TV?
Roku is a great streaming device for accessing Live TV channels at a low cost or adding Netflix and Disney+ to your dumb TV. While most people use the TV speakers or connect an external speaker to Roku TV, I occasionally use headphones while streaming movies.
Fortunately, there are numerous methods for using headphones with RokuTV. You can connect your wired headphones directly to your TV, add a Bluetooth transmitter to your TV for wireless headphones, or use RokuTV's Private Listening feature.
Key takeaway
Yes, you can connect Bluetooth headphones to a Roku TV using the Roku mobile app for private listening, or by using an HDMI audio extractor. The most recent versions of the Roku Ultra (4800/02) also support pairing a Bluetooth headset.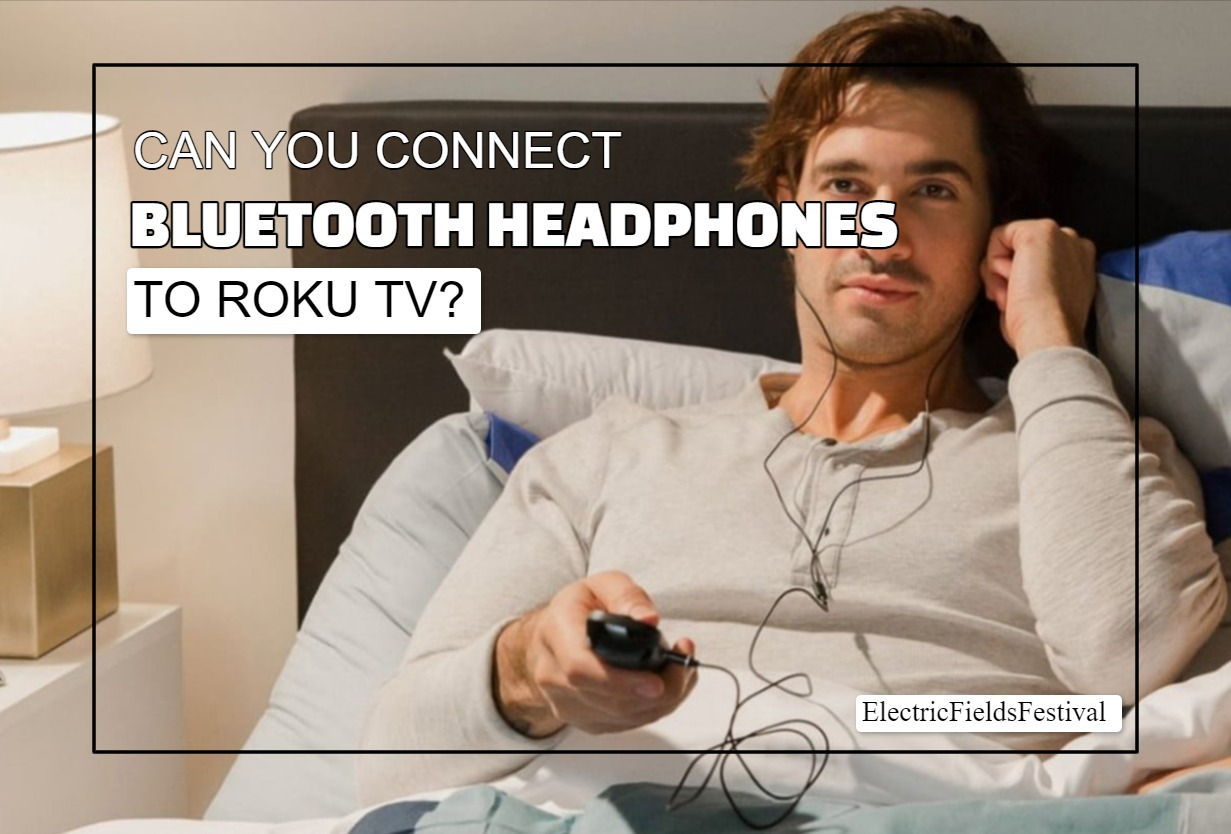 Can You Connect Bluetooth Headphones To Roku TV?
DO ROKU TVS HAVE BLUETOOTH?
Roku TV Wireless Speakers and Roku Smart Soundbar are the only Bluetooth-enabled Roku TV devices. While other Bluetooth devices cannot be paired directly to your TV, you can use Roku's mobile app – simply pair your Bluetooth audio device to your mobile phone, then enable "private listening" within the app.
So, technically, Roku's stance is that, with the exception of the two Roku Bluetooth speaker products just mentioned, Roku-based TVs do not support Bluetooth.
ROKU TV WITH WIRED HEADPHONES
A wired pair of headphones can be connected to your RokuTV in a variety of ways. Roku TVs can be used with any headphones that have a standard 3.5 jack. If you have a particularly long headphone cable, you can connect it directly to the headphone jack on the side or back of your television.
The audio and video are transmitted to the TV whether you have a smart TV with Roku built-in or a Roku device connected via HDMI. That's why plugging a wired headphone directly into your TV works every time.
While plugging in your wired headphones directly into the TV is an option, it isn't the best. It is preferable to use the Roku Voice Remote Pro instead. The Roku Voice Remote Pro, unlike the regular Voice Remote, has a headphone jack and is compatible with all Roku TVs.
You can simply plug your wired headphones into the remote's headphone jack and you're ready to go. Furthermore, you can connect multiple Roku remotes to a single RokuTV and use all of them to control your wired headphones.
To pair your Roku remote with your RokuTV:
Remove the back cover of your new Roku remote and replace the batteries while your RokuTV is turned on. If your remote has built-in lithium batteries, make sure they're fully charged.
Keep holding down the pairing button on the remote until the green light under the remote begins to flash.
Start pressing the up and down arrow buttons on the remote until the RokuTV displays a Pairing prompt. When the TV and remote are paired, the green light on the remote should stop flashing.
After a few seconds, the remote should be linked to the RokuTV.
Similarly, you can pair more Roku remotes with your RokuTV and watch a game or movie with your mates with wired headphones hooked up to the remotes.
ROKU TV WITH WIRELESS HEADPHONES
While wired headphones are the conventional and easy way of listening to the audio, they aren't convenient. The cables are a tripping hazard. I've damaged several headphones and injured my ears numerous times because the cables became tangled or were accidentally stepped on.
Unfortunately, Roku does not get along with Bluetooth. A Bluetooth transmitter is required to connect your Bluetooth headphones to your TV directly.
A Bluetooth transmitter converts the analog output from your television into a digital signal that you can then send via Bluetooth to your Bluetooth headphones. I've got one connected to my PS5 so I can use my Bluetooth headphones.
However, keep in mind that the audio travels through several mediums, and with Bluetooth's limited bandwidth, there may be some audio delay, which could ruin the movie experience.
To pair your Bluetooth headphones with the transmitter:
Use a standard 3.5mm headphone jack or RCA cables to connect the transmitter to your TV.
To provide power, connect the transmitter's DC input or USB cable to a wall adapter.
To put your Bluetooth headphones in pairing mode, press the pairing button.
Within a few seconds, your transmitter should automatically pair with the headphones.
If this does not happen, you may need to press the pairing button on the transmitter to activate pairing mode.
Once your headphones have been paired with the transmitter, the audio should begin to play through the wireless cans.
Alternative Video: Can You Connect Bluetooth Headphones To Roku TV?
READ ALSO:
CONNECTING IT DIRECTLY TO THE TV
If your TV has Bluetooth connectivity, you can wirelessly connect your Bluetooth headphones to the TV. Here's how to connect your Bluetooth headphones to your TV:
To begin, turn on your headphones' Bluetooth and enable the pairing mode (if it requires pairing).
Go to your TV's menu and select the Bluetooth devices menu.
Now, scan for available devices and choose the name of your Bluetooth headphones from the list.
Congrats! You have successfully connected your Bluetooth headphones to ROKU via the Bluetooth on your TV.
HOW TO LISTEN ON ROKU THROUGH BLUETOOTH HEADPHONES?
Use your iPhone, iPad, or Android device to launch the Roku app. If you don't already have the Roku app installed on your device, you'll need to do so and set it up before proceeding. You'll be taken to your Roku home screen.
On the home screen, tap "More" in the menu. The More menu will appear.
In the Device section, tap the name of the device to which you are currently connected. A list of your Roku devices that are connected is displayed. On this list, tap the name of the device you want to control with the app and use the Roku private listening feature. You'll be taken back to the More menu, where the Roku device you chose will now be visible in the Device section.
Make sure your wireless Bluetooth headphones are connected to your iPhone, iPad or Android device.
Tap "Control" in the menu on the screen. The Roku Control screen is displayed.
On the Roku Control screen, tap the "Private Listening" icon. The Private Listening icon resembles a set of headphones. An audio wave will now appear between the two headphone cups, indicating that Roku Private Listening is now enabled. You'll also notice a Roku Private Listening icon appear in the upper right corner of your Roku screen as soon as you enable the feature. Any audio from your Roku device will now be played through the headphones you have connected. Roku Private Listening can be turned off at any time by tapping the Roku Private Listening icon on the Control screen. The audio wave between the two headphone cups on the icon will be removed, indicating that the feature is turned off.
WHAT IS ROKU PRIVATE LISTENING?
Roku has valid reasons for not including Bluetooth capability in their devices. It isn't a good medium for carrying audio signals because of its low bandwidth and latency. This is why Roku created the Roku Private Listening feature.
With Roku Private Listening, your phone transforms into a capable Roku Remote, allowing you to watch movies and TV shows with both wired and wireless headphones. This is my preferred option because it requires no additional investment and works flawlessly, with some added perks as a bonus.
To use Private Listening:
Download the free Roku app from the App Store if you have an iPhone or iPad, or the Play Store if you have an Android device.
Start the app and make sure your RokuTV and phone are both connected to the same WiFi network.
When you click Continue on the Terms and Services page, the app will scan for Roku devices that are connected to your Wi-Fi network.
To pair your phone, select RokuTV from the available devices.
Wait for the interface to change for a few seconds.
On the new interface, select the Remote tab at the bottom of the screen.
Now you can connect your wired headphones to your phone. Tap on the headphone icon on the Remote screen and the audio should start playing.
You can also have your Bluetooth headphones paired to your phone and clicking the headphone icon would do the trick. When you have wireless headphones, the headphone icon on the remote also changes with an audio wave icon between the cans.
WHAT TO DO IF PRIVATE LISTENING IS NOT WORKING?
If Private Listening isn't working on your Roku device or you're experiencing audio syncing problems, try waiting a few seconds for the problem to resolve itself.
Then you can pause and resume what you're listening to, turn off and on private listening, or close and reopen the app.
CAN MULTIPLE PEOPLE USE PRIVATE LISTENING AT ONCE?
One of the more interesting aspects of private listening is that you can have up to four different people listening at the same time. However, there are a few prerequisites. The first is that you can only do this on a mobile device – tablets will not work. You must also ensure that your Roku TV is running Roku OS 8.1 or later.
To find out what version of Roku you have, go to System and then About. Most Roku TVs will automatically receive software updates. Every 24-36 hours, the TV checks for updates, and if there is a new OS, it will download it for you.
And now for the final requirement. In order to have multiple people use private listening at once, every person listening must have the Roku app and be connected to the same network.
HOW TO CONNECT BLUETOOTH HEADPHONES TO ROKU USING THE APP?
To pair your Bluetooth headphones with a Roku device, launch the Roku app on your smartphone or tablet and pair your headphones. Go to Devices in the Roku app and select your Roku device. Then, on the Remote, tap the headphones icon to enable private listening.
Please keep in mind that private listening is only available in the Roku app for certain devices, including the Roku Express, Roku Express+, Roku Streaming Stick, Roku Streaming Stick+, Roku Ultra, and Roku TV.
On your smartphone or tablet, launch the Roku app. If you don't already have the app, you can get it for free from the Apple App Store or Google Play.
After that, connect your Bluetooth headphones to your smartphone or tablet.
Then, in the Roku app, go to Devices. This will be visible in the lower-right corner of your screen.
Then, under Remote, select your Roku device.
Then, tap the headphones icon.
When you connect your headphones to your Roku device, a headphones icon will appear in the top-right corner of your TV.
Note: If you can't connect your headphones to your Roku device or your connection is weak, make sure your smartphone and Roku are on the same WiFi network. To see your Roku's WiFi network, press the home button on your remote and go to Settings > Network > About.
To change your Roku's WiFi network, go to Settings > Network > Set Up Connection and follow the on-screen instructions.
HOW TO CONNECT HEADPHONES TO A ROKU TV USING THE ROKU REMOTE?
If your remote has a 3.5mm headphone jack, you can also connect your wired headphones to it. This is located on the opposite side of the volume buttons on the remote.
When you insert your headphones into the jack, the audio on your TV will immediately change to private listening mode. Check that your headphones are securely connected to your remote if you hear popping or stuttering.
BENEFITS OF USING A BLUETOOTH TRANSMITTER INCLUDE:
Capable of connecting two Bluetooth headphones/speakers simultaneously.
When using headphones that support aptX low latency, there is no audio lag.
Some models even support simultaneous audio output via headphones (paired to the transmitter) and your Sound Bar/AV Receiver… effectively "bypassing" the issue where some TVs automatically but when something is plugged into their audio output jacks.
Setting up a Bluetooth adapter is simple; simply plug the adapter into your TV's audio output port and "Pair" your Bluetooth headphones with the adapter.
Headphone + Adapter combos are available, so you don't have to buy them separately. A combo is even more convenient to use because the headphones are already connected to the adapter; all you need to do is connect the adapter to your TV!
If you have a friend or family member who also requires the assistance of TV Headphones, there are dual wireless headphones for TV that come with two pairs of headphones and a transmitter, allowing you to share the experience.
HOW TO TURN OFF THE TV SCREEN WHILE LISTENING TO BLUETOOTH AUDIO?
If you frequently listen to the Roku Streambar, Roku Streamer Pro, or Roku Smart Soundbar, you can turn on the TV without disconnecting the Bluetooth audio. That is, when your TV is turned on, you can easily listen to audio on other devices.
Just make sure your Bluetooth device is connected to your Streambar or soundbar before you begin. To stream audio via Bluetooth to your Roku wireless speakers or Roku TV Wireless Soundbar when your Roku TV's screen is turned off, locate and enable the Fast TV Start feature on your Roku TV.
To enable Fast TV start go to Settings > System > Power > Fast TV Start
After you've enabled Fast TV Start, you can now stream audio without turning on the screen. Simply press the Start button on your Roku remote, then scroll up or down to find the Turn off display in the Bluetooth channel.
When you want to reactivate the TV screen, simply press the power button on your Roku remote or use a specific voice command. That's all there is to it when it comes to using a headset to watch your favorite movies or series or listen to music on Roku TV.
CONCLUSION
RokuTV is a fantastic streaming device that provides a lot for the money. In addition to Netflix, AppleTV, Amazon Prime Video, and Disney+, it provides a plethora of free shows and live channels.
When I want to use both wired and wireless headphones with the RokuTV, I use the methods described above. However, for user-friendliness and convenience, I prefer Roku Private Listening. I hope the same is true for you.
FAQs About Bluetooth Headphones Connecting To Roku
Can I use Bluetooth headphones with Roku TV?
You can use the Roku app to connect your wireless headphones to your TV whether you have a Roku streaming device or a smart TV. This enables you to watch movies at full volume without disturbing others.
Can I use headphones to listen to my Roku TV?
To enable Private Listening, launch the Roku Mobile App and insert your headphones. When your headphones are plugged in, tap the headphone icon to enable or disable private listening. You can even use private listening with up to four devices at once!
Does Roku have Bluetooth audio?
Roku, on the other hand, has expanded the Roku Private Listening feature to now be available through the Roku app for iPhone, iPad, and Android devices, allowing you to listen to audio from your Roku device on up to four connected Bluetooth devices, such as a Bluetooth speaker.
Recent Content