How Do I Connect TV to Sound bar? HDMI cables have been around for a long time, and the truth is that most people use them regardless of the device to which they are attempting to connect.
However, we must not forget that some people continue to use older devices that do not support HDMI connections.
They may not want to spend more money than necessary, or they may be emotionally attached to their equipment, but it is also possible to have all of the devices that support HDMI but not the cable itself.
Here is a quick solution.
How Do I Connect TV to Soundbar?
In any case, you should be aware that there are other ways to get your devices to cooperate and provide you with a great listening/watching experience. This is why we decided to write this article to assist you in discovering various options and selecting the one that works best for you.
This time, we're dealing with connecting a TV and a sound bar without HDMI ARC, so stick with us and we guarantee you won't be sorry. In fact, you might discover some new and interesting facts.
What Is HDMI/HDMI ARC and Why Is It So Important?
As previously stated, HDMI cables have taken root and have become the primary method of establishing a dependable connection between two or more electronic devices (TVs, AVRs, PCs, monitors, projectors, etc.).
HDMI cables are a must-have because of their quality, dependability, and ease of use, especially when it comes to establishing complex connections within a home theater system that includes multiple sources and output devices.
HDMI (especially HDMI ARC) simplifies our lives by removing numerous unsightly and tangled cables and replacing them with a single cable. It looks much nicer, takes less time to connect everything, and is simpler.
Alternative Video: How to Connect Soundbar to TV using HDMI ARC
But What Exactly is HDMI (ARC)?
HDMI is an acronym that stands for High Definition Multimedia Interface, and its primary function is to transmit digital signals (audio and video) between devices. Almost all modern audio/video devices, including TVs, PC monitors, DVD and BluRay players, video projectors, cable boxes, laptops and PCs, amplifiers, receivers, soundbars, and so on, have at least one HDMI port.
Because different devices with HDMI connections are used in different situations, locations, and under different conditions, there are various types of HDMI cables. They all have different capabilities that are tailored to the capabilities of the devices to which they are connected.
Due to this fact, you can choose between the following types of cables:
Standard HDMI cables: They are used to connect HDTVs, have a bandwidth capacity of up to 5 Gbps, and are typically available in 1.0 or 1.2a versions.
High-speed HDMI cables can handle video resolutions ranging from 1080p to 4K, as well as 3D and deep color video content and bandwidths of up to 10 Gbps. They are usually available in versions 1.3 and 1.4a.
Premium high-speed cables: They are designed for ultra-reliable performance with BT.2020 support for 4K/60p HDR content. They provide better EMI protection than standard and high-speed HDMI cables and can be identified by the 'premium' label on the package.
Automotive HDMI cables have the same capabilities as standard/high-speed HDMI cables, but they are used in cars to connect various types of car players to car video displays.
Ultra-high-speed HDMI cables: These cables can transmit 4K/120p and 8K/60p resolutions, have a bandwidth of 48Gbps, and are used with HDMI 2.1 devices.
HDMI cables with built-in Ethernet: This type of cable includes an HDMI Ethernet channel, allowing multiple HDMI-connected devices to share a single Ethernet connection. These cables are infrequently used.
Furthermore, each cable has a different connector, and the type of connector depends on the cable application. As a result, there are four major types of connectors used for HDMI cables:
Type A: This is the standard connector size used to connect various players, PCs, cable boxes, gaming consoles, and other source devices.
Type C: These are mini-sized connectors that are primarily used to connect a regular source device to a regular-sized tablet or a DSLR camera.
Type D: This connector is also known as a micro connector. It's used to connect a TV, projector, or PC to small portable devices like tablets and smartphones.
Type E: These are automotive connectors that are only found on automotive HDMI cables and are only used with in-car devices.
How Can You Connect TV to Sound bar?
As previously stated, there are two ways to connect your TV to the sound bar. You simply have to decide whether you want to put your TV or your sound bar in charge of the entire system of connected devices. In other words, you must decide whether your TV or your sound bar will serve as the system's hub.
In some cases, the manufacturer of the soundbar makes that decision for you – if the soundbar only has one or two audio inputs (analog and/or digital), you have no choice but to use your TV as the hub and connect all the output devices to your TV before connecting the TV to the soundbar.
Connecting all the devices to the TV
If you choose to use your TV as a media hub and connect all audio/video output devices to the TV, you select the simplest method of connecting the sound bar to the TV. Of course, this is only possible if you have a modern television with a variety of digital input and output ports, as well as some analog inputs and outputs.
If you have that type of television, you can connect it to your Blu-ray player, game console, cable box, or any other video or audio device. That means you only need one cable to connect the TV to the soundbar, and you can use digital optical or digital coaxial cable to do so.
This type of connection enables you to watch a variety of content on your TV while your TV sends all audio to the soundbar. You do not require a soundbar with numerous input/output ports, including an HDMI connector. Because all of your other devices will be connected to your TV, you can focus on finding the soundbar with the best sound quality for the price you can afford. The soundbar only requires one audio input port (digital optical or coaxial depending on the available audio outputs on your TV).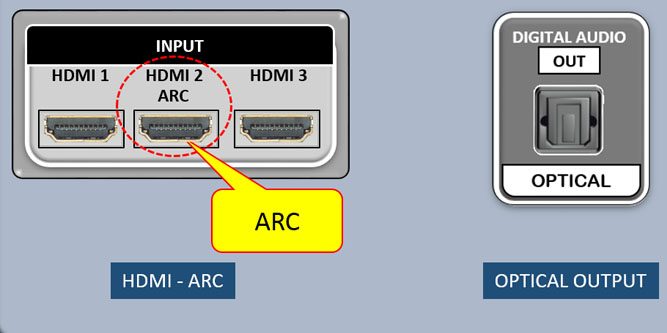 In this case, you might have difficulty distinguishing between digital optical and digital coaxial cables. They are similar, but you can tell the difference by looking at the connector, as the digital optical cable has a square connector and the digital coaxial has a circular connector. Many people prefer digital optical cables because they believe they provide better performance. However, they are both excellent and can be used to send high-quality digital signals from one device to another.
Furthermore, you should be aware that a digital optical connector is more common than a digital coaxial connector because the latter is not found on all televisions.
Connecting all the devices to the sound bar
The more difficult method is to connect the TV to the soundbar via HDMI cable. This implies that you should have a highly functional soundbar with a variety of inputs and at least one HDMI output. That way, you can connect all of your audio and video output devices to it directly.
The important thing is that your TV has an HDMI input port through which you can connect the TV to the soundbar. In this case, your soundbar handles all audio and video inputs and sends video to your television. The soundbar serves as the media hub in this case, and it is much more than a regular speaker.
This, however, is not as simple as it appears. You should be aware that the majority of HDMI ports on televisions are only input ports, which means they can only receive the signal but not send it anywhere. If all of your devices are connected to your soundbar, this type of HDMI port can be used to connect the soundbar to your TV.
Unfortunately, that isn't always the case because soundbars only have a limited number of HDMI inputs (for connecting different video sources), and if you have more video sources than HDMI input ports on the soundbar, you'll have to connect some of the video sources to your TV.
If that's the case, you'll need to send audio from your TV to your soundbar as well. You'll need an HDMI ARC connection on both your soundbar and your TV to enable two-way communication.
ARC (Audio Return Channel) is a technology that allows your TV to not only receive but also send audio content back to the soundbar – the content can travel both ways. This means that audio can be transmitted to the soundbar via a single HDMI cable.
If your TV lacks an HDMI ARC port, you can connect it to the soundbar with an optical cable and send audio from your TV to the soundbar through it.
If you have a modern soundbar and a modern TV, both of which have HDMI ARC ports, you should definitely use the HDMI ARC connection. It is extremely simple, provides excellent performance, and requires only one HDMI cable.
Additional Ways to Connect a Soundbar to a TV
We recognize that many people still have older TV and soundbar models, so we decided to assist them as well. HDMI and optical cables aren't the only options for connecting soundbars to televisions. They are currently the best options, but here are some alternatives that may be useful if you are stuck with older equipment.
RCA to 3.5mm cable
The RCA to 3.5mm cable is easily identified and is frequently included with various audio and video equipment. It cannot provide high-quality digital audio, but it can serve as a good substitute when the previously mentioned connections cannot be established.
The connection procedure is extremely simple. The 3.5mm connector must be inserted into your TV's "line out" port. The red and white RCA connectors must be inserted into the soundbar's red and white ports, respectively. You can also use RCA ports on your TV and a 3.5mm port on your soundbar, depending on the connections available on your TV and soundbar.
Headphone port
You will only need one 3.5mm to 3.5mm cable to connect the TV to the soundbar via the headphone port. Most televisions have headphone jacks that can also be used as line out ports. All you'd have to do is change the TV's settings so that it recognizes the headphone jack as a line out port. In either case, the sound quality will be poor. It will also be significantly quieter than usual, necessitating an increase in TV volume.
What Type of Connection is Best?
After all that has been said, it is quite simple to answer the question. The HDMI connection is our winner in this case, and we will explain why.
Connecting a TV to a soundbar via HDMI cable is a simple process. It will save you both time and space. This type of connection can be used in any situation, whether your TV is mounted on the wall or stands on a shelf or table. HDMI cables enable high-quality performance because they can transfer large amounts of digital audio data without compressing it. These cables are suitable for use with high-end surround sound systems (7.1, for example), and they support DTS.X and Dolby Atmos.
Digital optical cables also provide excellent performance because they use light to transmit the digital audio signal, resulting in less interference. However, if you go this route, you should consider the position of the soundbar. Because of the cables connected to the soundbar, you can't move it very far if you use it as the hub. The best option is to place the soundbar on a table or shelf so that the back panel is always accessible.
The two alternative methods of connecting your soundbar to your TV are described because you should know what to use in an emergency, but you should be aware that not all types of connections provide the same sound quality.
We all live in different apartments/houses and have different devices, however. You will select a connection type based on the available input and output ports on your devices. If you have a choice, you should know that HDMI is always the preferred connection. If your TV or soundbar lacks HDMI ports, you can use digital input and output ports (digital optical or coaxial), and if those are unavailable, you must use analog ports (RCA or 3.5mm).
FAQs on Connect TV to Sound bar
How do I connect my soundbar to my TV without HDMI ARC?
1. Connect the HDMI cable (sold separately) from the external device to the TV when connecting an external device to the TV (without ARC) and Sound Bar. Then, using an optical cable, connect the external device to the Sound bar (sold separately).
2. The HDMI connection is unnecessary if you only want to connect to the TV.
What do I do if my TV doesn't have an HDMI ARC?
If the TV has no ARC label on its HDMI ports, connect the HDMI cable to any HDMI ports on the TV and to the HDMI OUT (ARC) on the home theatre system or home audio system. Then connect an optical cable to the optical output port of the TV and the DIGITAL IN (TV) port on the home theatre system or home audio system.
Will my sound bar work without HDMI ARC?
If all you want is tv sound, you won't be able to get it from your TV to your sound bar unless you have HDMI ARC/Optical/Digital Coax. If you connect other devices to the bar, the devices will output video to the TV and sound to the bar. Without those connections, there will be no sound from over-the-air television.
Recent Content